The official website of the National Olympic Committee of Armenia (armnoc.am) begins a wide range of interviews with the famous Armenian athletes. The first interview is with the first Olympic champion of independent Armenia, Greco-Roman wrestler Armen Nazaryan. The famous athlete became a multiple World Champion after representing Bulgaria but he maintained the ties to the motherland and the representatives of Armenian wrestling school. As noted Nazaryan, "though we don't live in Armenia we keep it in our hearts".
- Good day, Mr. Nazaryan, first I want to thank you for accepting our invitation and congratulate you on the award. Was it expected?
-Yes, I have expected it for many years. It doesn't matter when it happened. The important is the attention of our government which made me very excited.
-Mr. Nazaryan, as an athlete you have all possible gold medals. But is there any medal which you'd like to conquer?
-To tell the true, every medal has its place. I would like to have the 3rd Olympic gold. Anyway, I left it to our children and hope they will gladden us. We'll be very happy and proud if our family has 3 Olympic gold medals.
-Mr. Nazaryan how did you feel when competing and now when you coach?
-When I was a wrestler the whole responsibility was on me. It was hard time when I became a World, European and Olympic champion. To be a coach is more difficult, because you are preoccupied not only by you and your family but the nation and all members of team. It's very relative; you may become a good athlete but not a good coach. Anyway, coaching is not for everybody.
-Mr, Nazaryan, do you remember yourself the first month after grabbing Olympic gold?
-When I won Olympic gold I stood on winner's rostrum full of excitement hearing the national anthem and watching the Armenian flag. I was wondering how I could win the opponent at the Olympics having lost to him 7 months ago. After returning home with the gold medal I cried over my silver medal of the World Championship. Such things happen very rarely in wrestling when in 7 seconds you give the gold medal to the opponent.
-What happens when the Armenian and the Bulgarian athletes meet in the fight?
-People get confused. They begin to ask me about the Armenian athletes and at some point I feel myself Armenian team member.
-Why did you leave Armenia?
-I don't want to give back time. I have done many things for my nation, my family. I didn't want much. When I lived here I had to get to Yerevan from Masis every day, I needed financial support, conditions for training and living in Yerevan. But that time in 1992 it wasn't possible. The country was in war, people lived in hunger, without electricity. I don't want to speak about that.
-Soon the Olympics will kick off. In your opinion which Armenian athletes will fight there for medals?
-We shouldn't single out some athletes. Every athlete wants to take part. You know participation is not enough we have participated in the Olympics for 20 years but still haven't got Olympic gold. We have already 2 qualifications and hope to have two or three more. It's not correct to expect medals only from Arthur Aleksanyan and Arsen Julfalakyan, other athletes should be given a chance too.
-Mr. Nazaryan, once you noted that referees had influence on the fight result, do they know?
-They always had it and will have. Now athletes have to fight so well for not to lose.
-Mr. Nazaryan do you remember the most difficult fight of your life?
-Yes, I do but among difficult fights I both won and lost. All my strong opponents were Armenians. And even when I represented Armenia my opponents were Armenians such as Alfred Ter-Mkrtchyan, Samvel Danielyan, Karen Mnatsakanyan and many others. It was difficult because we were from the same school, trained together and participated in the same competitions. We knew each other's technics what made a difficulty.
-Please, mention the most memorable victory of your career.
-When I first became a Europe champion. I was very young then.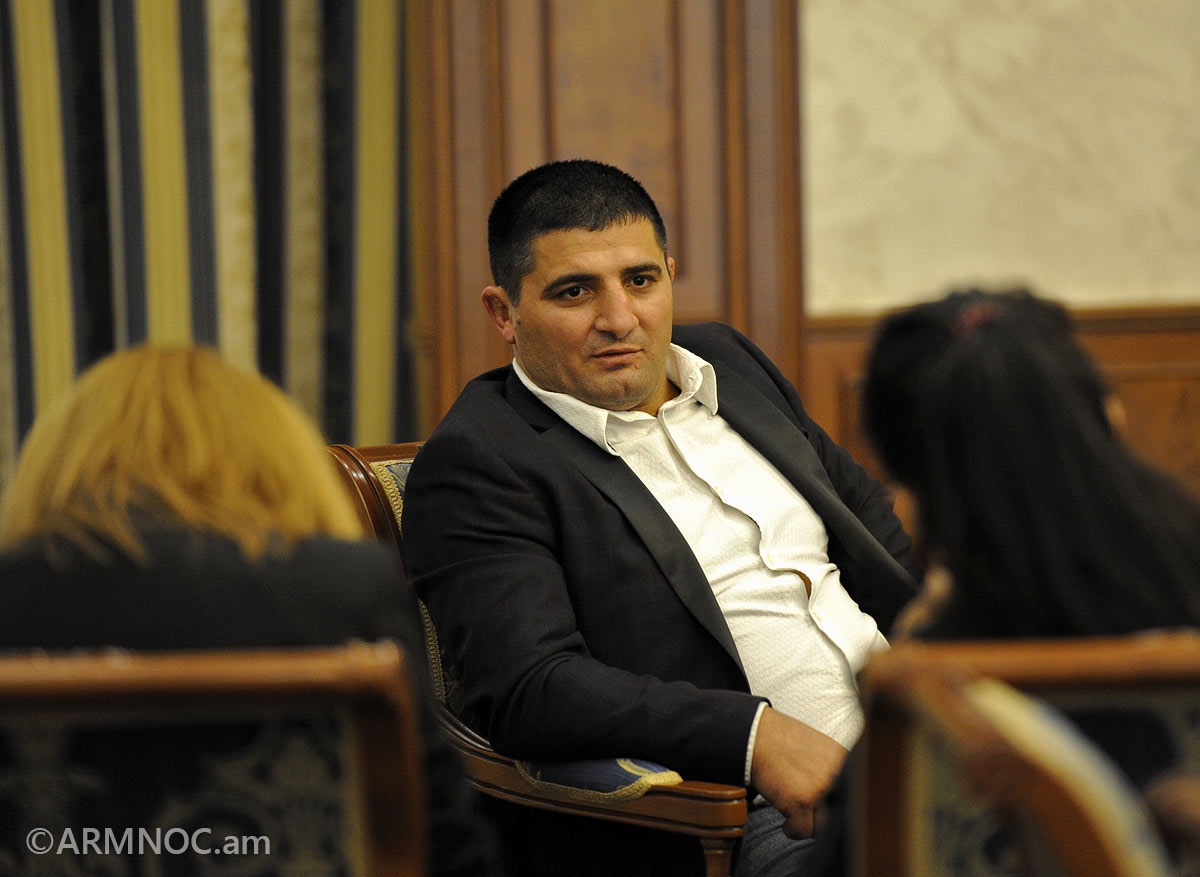 -What is happiness to you?
-Happiness is seeing my country peaceful and my people laughing. Nowadays, it's difficult to meet happy people.
-And what does it mean to be lucky?
-I think the luck comes when you have an aim and achieve it.
-Mr. Nazaryan, which is your strong points?
-It's my back.
-And what about your fears?
-I pray for the peace of my country.
-Which features of character do you appreciate?
-Mainly respect for elders and weaker ones.
-And your favorite sport?
-Of course, wrestling.
-Who is your favorite athlete?
-Aleksandr Karelin.
-Please, mention your favorite movie.
-I like Armenian films.
-The favorite acrtor?
-Armen Jigarkhanyan.
-The favorite singer?
-Aram Asatryan.
-Your favorite song?
-«Sarnaghbyuri mot».
-The favorite musical instrument?
-Duduk.
-The favorite historical hero?
-Vardan Mamikonyan.
-The favorite country?
-Armenia.
-The favorite city?
-Masis.
-And which is the slogan of your life?
-Victory.
-The mascot?
-Our cross.
- Which is the last photo you took?
-I took photo of these Olympic rings.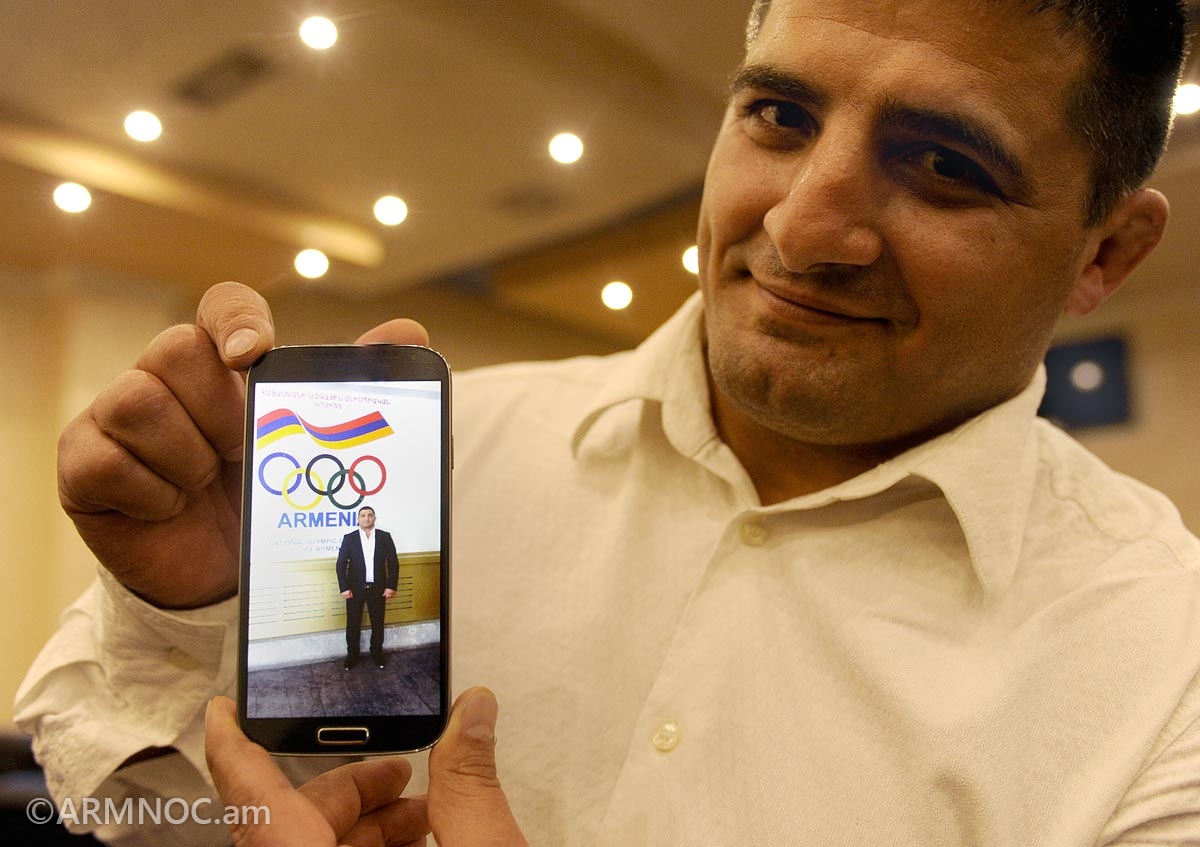 Photos: here.
ANOC press department